CashBean Instant Loan App Overview Features – Get Instant Loan
Do you need to borrow over 50,000 rupees without going through heavy documentation? you can give a try the cashBean instant loan app.
Emergencies can come anytime, but it not the case that we would have the money to tackle the situation every time. That's why we need a genuine web-based mobile application where you need to submit minimal documentation to exchange an instant loan. A mobile application is the most convenient thing for all of us because of its availability. For any crisis, you have a great option in your hand. You can use the CashBean instant loan app to get an instant loan up to Rs. 60,000.
What is the CashBean instant loan app?
CashBean is a New Delhi-based install loan company that provides small loans to people through their mobile applications. P C Financial Services Private Limited operates the CashBean platform. It is a Non-Banking Finance Company (NBFC). You can entirely rely on them because they are registered with the Reserve Bank Of India. CashBean has been made to provide users personal financing more conveniently and quickly. Their mobile app and high technology system enable people to offer loans without lengthy documentation processes and paperwork. All the process of loan from applying to sanctioning the loan is digitalized.
CashBean instant loan feature:
It does not require any credit history.
You can get the CashBean loan from anywhere in India.
All the documentation process is digitalized.
The fast processing and disabuse of the loan. You get the money in your bank account in between 15 minutes.
Minimal documentation.
Direct bank transfer.
How you can start using the CashBean instant loan app?
Firstly you have to install the app from Google Playstore as the CashBean app is available only for Android users. It can be downloaded from here: Get CashBean App.
After installing the app, you have to open the app.
After that, you have to allow the app to take pictures and record videos, get access to your contacts, your location, and call you and send you SMS.
Then you have to enter your mobile number. Then have to tap on NEXT, and you will receive a 6 digit OTP to verify your number. If you are using the same number on the phone, you installed the app. You do not need to enter the OTP manually. The process will be completed automatically.
After verifying the app, you will see that you are eligible for getting a loan of some amount there.
There you need to tap on "CONTINUE TO APPLY."
After clicking there, you will be on the page where you have to update your KYC documents.
Firstly you have to upload your PAN CARD, then your selfie, and then address proof. You can select AADHARD CARD as your address proof. You need to upload the front and rear of the AADHAR CARD. Then you have to click on the SUBMIT APPLICATION.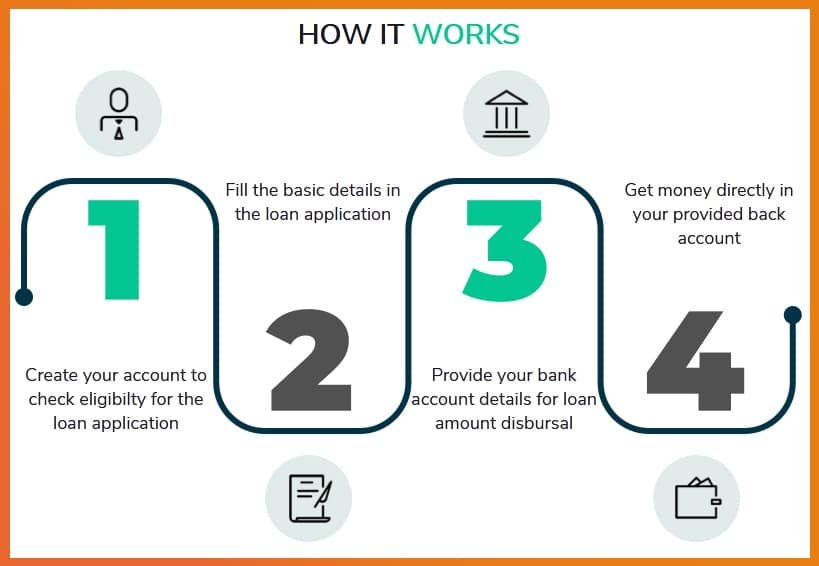 After submitting, they will review your application and will decide they will offer you're the loan or not.
Then you have to click on the CHECK THE REVIEW RESULT. If you are eligible to get a loan from CashBean, they will display you the amount.
There will be mentioned how much money you are eligible for, how much the processing fee, how much GST you have to pay, and the loan's tenure.
If you agree and want to borrow the money, you need to click on the NEXT.
After that, you have to add your Savings Bank Account. Just click on the "Plus" icon. After that, you have to put the IFSC code where you want to take the money, the account number, and again enter the account number. After that, you need to click on CONTINUE.
Then CashBean will verify your bank details in a couple of minutes.
Then you have to sign the e sign agreement with CashBean.
There are two ways to sign the agreement.
The first one is they will provide you an OTP to your registered number, where you can digitally sign by your OTP. The second one is what you can do with your AADHAR CARD.
You can read the agreement and then click on the PROCEED.
After clicking there, you will see your name and mobile number.
Then you have to tap on GENERATE OTP.
After giving the OTP and signing in, CashBean will show you congratulations graphics. There you can see, they will disburse your loan amount in 15 minutes.
CashBean loan terms and conditions:
The person must have to be an Indian citizen.
People must have to be at least 18 years.
Monthly income source.
CashBean review:
On Google, Playstore CashBean has a 4+ rating and over 10 million installs till writing this article. The app has a massive user base due to its impressive features. P C Financial Services Private Limited offers the app in Google App Store. CashBean customer care is 1800 5728 088, which can be used for any help. You get 24*7 support for any query or loan related problems.
Verdict:
Interests in CashBean are up to 33 percent, and the processing fee is between Rs. 90 to Rs. 820. The deadline for the repayment of the loan is from 90 days to 120 days. If you failed to pay the loan amount in a given time, you have to pay 2 percent per day. 256-bit SSL encryption secures all the transactions on CashBean. At first, you will not be eligible to get a higher amount of loan like other instant loan platforms. As your credit grows up, you will be to get more amount of loans. So, if you are also looking for an instant loan through your mobile without going through lengthy documentation, then CashBean would be an excellent option for you.