PaySense Instant Personal Loan App Review- Get Loan Up To Rs 5 Lakhs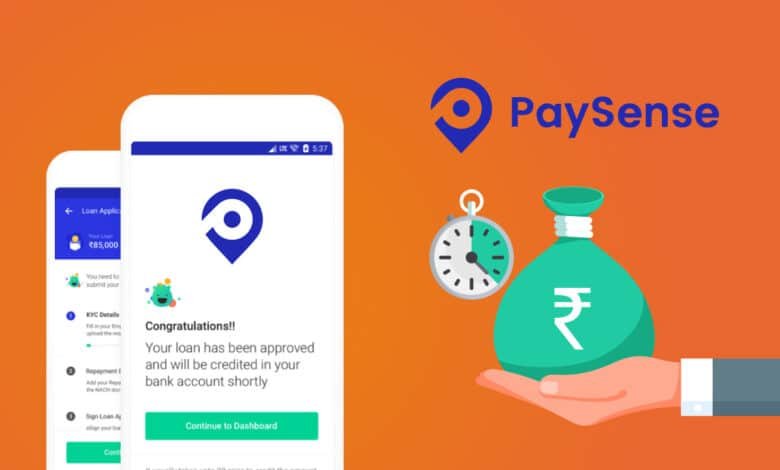 Are you searching for a reputed platform for personal loans without facing hassle? PaySense instant personal loan app would be a great solution for you.
Everyone in life requires loans for various reasons. Some people need personal loans; some require business loans. Now the demand for personal loans is also increasing. To fulfill that demand, many loan companies now ready to give loans. The process of a loan is quite complicated and lengthy with traditional banking systems. That's why some companies offering an instant loan with minimum documentation. Mostly these personal loan companies use new technologies and offer loans through their mobile apps. In this article, we will be discussing about that type of personal loan app, which is quite popular. The name of the app is PaySense.
PaySense is a quite popular instant personal loan app with over 5 million installs, and any people already used that and taken the loan. 
About PaySense loan:
 PaySense is a Mumbai based company who started their journey in 2015. It is a venture-backed financial service startup. They use advanced data science technology to provide hassle-free credit without going through a complicated application process.  This financial start-up PaySense is partnered with IIFL, which is a Non-Banking Financial Company in India and it's RBI registered.
According to them, more than 120000+ loans have been disbursed, and more than 1000 crore rupees have been given as a loan. They offer an Android loan app, which is available on Google Playstore. PaySense offers loans for various purposes. They are as follows.
Personal loan.

Vehicle loan.

Consumer loan.

Travel loan.

Marriage loan.

Medical emergency loan.
And many others.
PaySense offers loans in most of India's big cities like 
Ahmedabad, Bengaluru, Bhopal, Chennai, Chandigarh, Goa, Hyderabad, Indore, Kolkata, Mumbai, Nagpur, Navi Mumbai, and many more. They online provide loans to their selected zones.
PaySense instant personal loan app features:
The PaySense features are as follows,
Get your credits quickly:
Payments give instant personal loans in a very short time.
The whole process is speedy:
Whether getting the loan approval or getting the money on your account, both are very fast.
PaySense collects all required documents from your home. You just need to sign up all the hard copies and hand over to the courier. That's it.
Here you get easy EMI plans and features included like EMI reminders, auto-debit systems.
One-click subsequent loans:
After taking your first loan, if you require more credits in the future, you do not have to go through the whole documentation process again. They have a one-time documentation feature.
If you have not taken any loan before, nevertheless, you can quickly get a loan from PaySense.
You do not need anything to keep as a guarantee for the security of your loan.
PaySense loan interest and loan limit:
As mentioned above, PaySense offers loans from Rs 5000 to Rs. 5 lakh and these instant credits are given for a duration of three months to sixty months. They charge a maximum of 3.5 percent as the processing fee. To get more detailed information on the interest rate and tenure, late payment charges, and other vital information, you can visit their official website.
How to get started with the PaySense instant personal loan app?
To download the app, you need to go to the Google Playstore. Or you can get it from their website too. You get it here: PaySense loan app download.
After installing the app, when you open it, you need to click on get started.

After clicking get started, you will see an interface where the app will ask you to allow to send you SMS, contact you through calling, identify your location, and other things. These are required to allow for getting the loan quickly.

After clicking the "Okay, Let's Go" button, you have to enable all the things to come on your screen.

Then you have to create your loan account to get the credit, So tap on the "create your account."

Then, you have to put your first name and last name, which is on your PAN card.

After that enter your date of birth, select the gender, then tap on the "OK.

After that, enter your mobile number. Make sure the mobile number is open, and you have that because PaySense will send an OTP to verify that it is your number. Then the email ID, employment type, and then tap on "Continue."

After that enter your monthly income and correct it because you cannot change it later.

Then, put your PAN number, contact address, your current address pin code. And then, "save& Continue."

After that, you will see all your entered information. If you find anything is wrong, you can change it by clicking on the right pencil icons. If you find everything is correct, you need t click on the ": Submit."

After submitting, they will verify your mobile number y OTP. If you have the same number on your phone, you do not need to enter the OTP; it will automatically check you. If your number is on another phone, you have to enter the OTP manually. Then click on the continue.

That's it, and then you have to wait for some moments. If you are eligible for the loan, you will get notified there.
PaySense eligibility for an instant personal loan:
The applicant must have to be between the age of 21 years and 60 years.

The person must have a salaried person or self-employed.

Their residence pin code has to be under PaySense's coverage area.

The loan seeking person must have to be a resident of India.

For a salaried person, their minimum monthly salary should be Rs. 12,000 for a self-employed person; they should have a monthly income of Rs. 15,000.
PaySense review:
The PaySense mobile app has over five million installs on Google Play Store as of writing this article and has a 3.6 rating.
Verdict:
PaySense is an excellent way to get a personal loan instantly. It is a popular platform and is connected with any big venture. Since it's establishment, they have expanded their business to more than 5 Indian cities. If you require loans in a couple of hours with the minimum hassle, you can definitely try PaySense instant loan app.
If PaySense does not meet your requirements, you can give try several PaySense  alternatives mentioned below,