Instant Loan App LazyPay Offers Quick Loan By Digital Documentation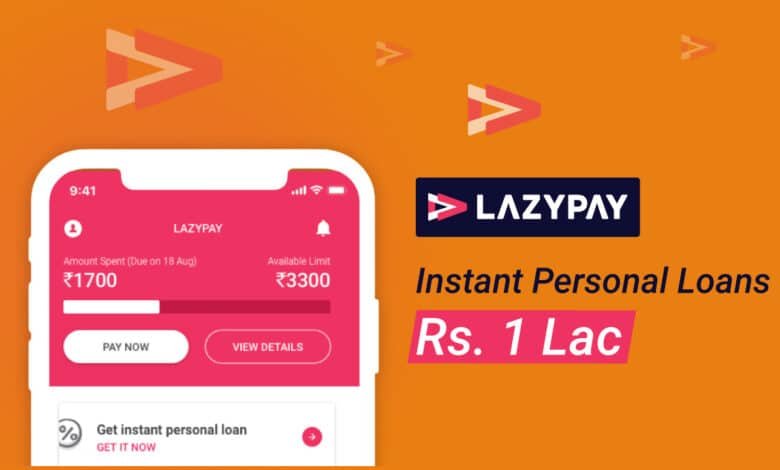 Do you often require instant cash for various purposes or face a shortage of funds at the end of the month? Why not trying the LazyPay quick loan app?
Money is an essential thing in our lives, and we often require it in our daily lives. Sometimes we needed in challenging situations, at the end of the month or after spending lots of money. Then we go to a bank or any financial platform to borrow money. For the loan, we need to pay interest no matter how small it is. Besides that, the documentation process for the loan is also very lengthy. Sometimes it takes too much time to get the loan amount. But now you have too many options on hand to get credit. There are many instant loan apps that offer people loans of small or medium amount without going through a big documentation process. But these instant loan apps also have a disadvantage; they charge high interest on loans. Now, think of one thing how would it be if someone gives you a loan without interest? You just take the money and pay the same amount at a given time. It sounds odd, right? But there is a platform that actually offers loans or credits to people without interest.
The name of the platform or app is LazyPay. This article will discuss in detail what is LazyPay, how you can get started with it, and how it works.
So, let's see,
What is LazyPay?
LazyPay is an excellent platform to get an instant personal loan of up to Rs. 1 lace. It is an all-around platform where you can borrow money, pay while shopping, and pay while ordering online food or other purposes. This platform also offers a pay later option where if you want to buy something urgently or want to have some food but don't have the cash, you go with LazyPay and pay the amount later.
When you buy anything, do online recharge, or pay using LazyPay. Actually, LazyPay makes the payment for you at that time, and you have to make the payment in under 15 days. Also, you can use this application as a wallet. You can send and receive money through UPI.
Typically LazyPay app gives you a loan in small amounts, but you can avail of a significant loan amount. To get a larger amount of loan, you have to some of their terms and conditions.
How to get started with LazyPay instant loan app?
Firstly you have to install the mobile app on your smartphone. The app is available on both Android and iOS platforms. You can install the app from the below-given link.
After installing the app, when you will open that, you will notice a dashboard where you need to on GET STARTED.
After that, you have to permit the LazyPay app for sending you SMS, your location, your contacts. Then tap on the arrow to go next.
Then you have to allow all the required things. After that, you have to verify your mobile number.
Enter your mobile number and click on NEXT. After that, they will send OTP to your number, and it will automatically verify your number. If your entered number is on the same phone, you do not need to manually enter it, and if not, you have to enter your OTP manually.
After that, your name to enter your name and email id and click on NEXT.
Then a dashboard will appear where you need to click on GET IT NOW three times.
You have to enter your personal information.
You need to enter your PAN number. After that, you have to enter your name, which is mentioned on your PAN card.
Then you have to enter your date of birth, select your gender, your employment status, your monthly income current address, Your area PIN Code, and your state.
After submitting all the information, you have to tick on the verify option and then click NEXT.
Then, you have to provide your location by turning on your mobile location and click on OK.
After that, LazyPay will create the best credit limit for you.
Features in LazyPay instant loan app:
Complete digital process: All the process in LazyPay is digitalized and fast. With minimal documentation, you can be eligible for loans.
15 days no interest credit: It is a unique and excellent feature in LazyPay where you get an interest free loan for up to 15 days.
Pay later with LazyPay: You can do shopping, book movie tickets, order online food, recharge your mobile, dish without money. With a single tap Pay later, and you can repay the amount in the next 15 days.
Pay offline too: You can scan QR codes on grocery stores, petrol stations, and pay with LazyPay instant loan app.
Eligibility for LazyPay instant loan app:
If you want to borrow credit from LazyPay, you must have to be aged between 22 to 55 years.
LazyPay does not provide loans to all places in India. However, it gives a loan to major-tier and tier-II cities.
The borrower must have to be an Indian citizen.
The borrower must have to be a salaried person.
Required documents to get the loan in LazyPay:
Identity proof (AADHARD CARD or similar document).
PAN information.
Address proof.
Bank account details (If you want to take money from your LazyPay wallet).
Your selfie.
LazyPay Offers:
To make payments for various platforms, LazyPay offers tremendous benefits. Lazypay recharge offers are excellent while making payments for Swiggy, Zomato, Tata Sky, Milkbasket, Medlife, and many more. If you frequently do online shopping with Flipkart, you can do it more conveniently with Flipkart LazyPay offers. After choosing any product from Flipkart, when you are about to pay, select the LazyPay option, you get comfortable and affordable EMI options. To use this feature, no documentation and processing fee required.   
LazyPay loan app download:
LazyPay loan app is available for both Android and iOS users. You can download it here: Lazypay loan app download for Android users, and Lazypay loan app download for Apple users.
Verdict:
The LazyPay instant loan app is an excellent platform where you can get instant loans up to Rs. 1 lakh. It offers 15 days no-interest loan. You can convert the amount into easy EMIs. On Google, Playstore LazyPay has over one million installs, and it has a 4+ rating on it. According to LazyPay, they disbursed Rs. 500 crore.
Check some Lazypay alternatives below.