Get The Primary Idea Of Hosting Business To Earn Money Online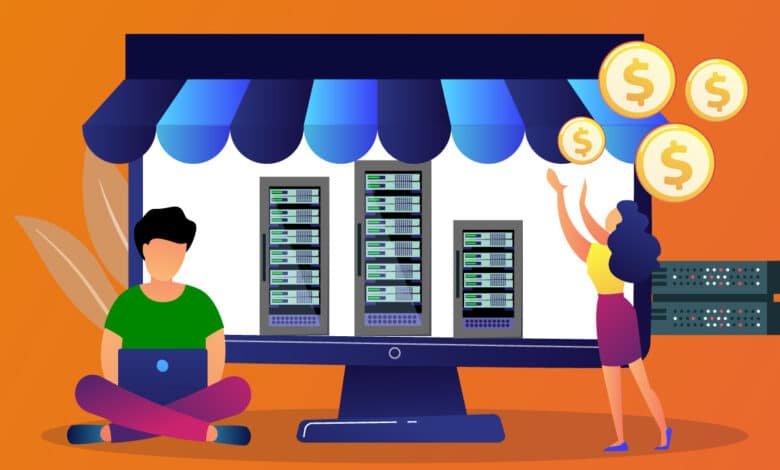 Are you a blogger? or social media influencer ? have huge followers? then the online hosting business could be a great idea to earn money online for you.
The internet has given so many earning opportunities to people. Today's big tech companies are now playing in billions of dollars, and their earning is continuously growing. When we search for the highest-earning companies through the internet, most probably Google, Amazon will be amongst the top. Amazon, Alibaba, is an online shopping platform. People come on their site and buy products, that's how they make money. If we go for popular food delivery companies like Zomato, Foodpanda, Swiggy, they are also doing their business due to the internet. There are several companies online that are making massive income from their online platforms.
For their business, one thing is inevitable and common, which is their website and mobile application. Without them, they cannot run their business. They need to keep their platform high performing all the time unless they will face severe losses. To make high performance and lighting speed website or platform, one thing they cannot ignore is their hosting. It is an essential component of a web platform. All the sites you are visiting on the internet are running through hostings. So, you can imagine how the demand would be for hosting.
Importance of web hosting for online business:
Everyone who is thinking of making his online presence needs web hosting. Even though big businesses run their website or application on their own servers but you have an excellent concept to make money from it. We are discussing the hosting and a server in the next portion. It would be a great idea to do business with hostings because its demand is high and in the near future, it will more increase. In this article, we will share with you a primary concept of the hosting business and how you can get started with it.
If you don't have knowledge of hosting and servers, you can check the below brief description of the hosting and server.
What is hosting and server?
First, come on the server. You can imagine a severer as a CPU or a computer. The server contains the space where you import your website codings, processor, bandwidth ( which is the amount of data transfer), and lots of other things. But if you go into details, there are so many things. But, you cannot establish your website on an open server. You have to create functionality on a server to run your website.
You can consider hosting as a part of the server. Almost everything a server contains web hosting has. In simple words, hosting is the home of your website, and people think that hosting is basically a disk space but actually so much than this. There are numerous types of web hosting available. Like
Shared hosting.
VPS hosting (virtual private server)
Dedicated hosting.
Cloud hosting.
And many more.
Above all of them, shared hosting is the most popular web hosting because of its cheap pricing.
You can start your hosting business with these below simple steps.
Gain knowledge on hosting:
Before getting started on this profitable hosting business, you need to have a proper understanding of hostings and servers. It is the primary thing you need. If you are in this field, then it will easy for you, but if you are not, you need to study all the aspects of it.
Choose your brand name:
For every business choosing a brand name is very important because the brand name creates the first impression upfront of your customers. It helps your consumers what they can expect from you. So, try to choose a brand name that is meaningful and relevant to your hosting business.
Choose a perfect domain name for your hosting website:
For starting a hosting business, you must have a website. Where you can show all your features, pricing, payment options supports, and all other things. While choosing the name of the domain, you should keep in mind the keywords. You have to find which keywords are mostly used by the people who are searching for hosting. If you have a keyword-relevant for hosting, that is very good.
Choose a good hosting company:
All the biggest and most popular hosting and server companies you see they do not make hosting and server. They actually sell them a white level reseller. So, you have to do things that way too. You need to choose a good hosting provider who offers excellent service, support, and white level resellers.
Set competitive pricing and features of your hosting business:
After all the website and resellers process is complete, you need to focus on your hosting business plan. You need a team to operate the whole process. This not a complicated business, and you are going to need sales, support, payment persons who can actually handle all these factors. You need to set competitive pricing for your hosting because, for a new company, it is hard to compete for the market as it is congested.
Give 24*7 support to your clients:
Hosting and servers are related to your website presence as well as your online business. For those who run a business through a website is very important to keep their site live all the time. In this hosting and server, any moment the downtime comes, and your clients will try to contact you. You need to be very responsive to that because the support matters a lot.
Run an ad campaign for your business:
In recent times the hosting business is full of competition, and to beat the game, you need to run advertising to promote your business and increase your brand exposure. You run ads on Google AdWords, various social media platforms, and of course the email marketing.
These are the primary things you need to start your hosting business. Hosting is one of those things which is already demanded, and in near future, its demand is going to increase. The number of websites is going to rise even higher in number and so with the hosting. So, it would be great to start your hosting business.
Read more online business-related articles below.