How To Earn Money Online By Creating An Excellent Blog?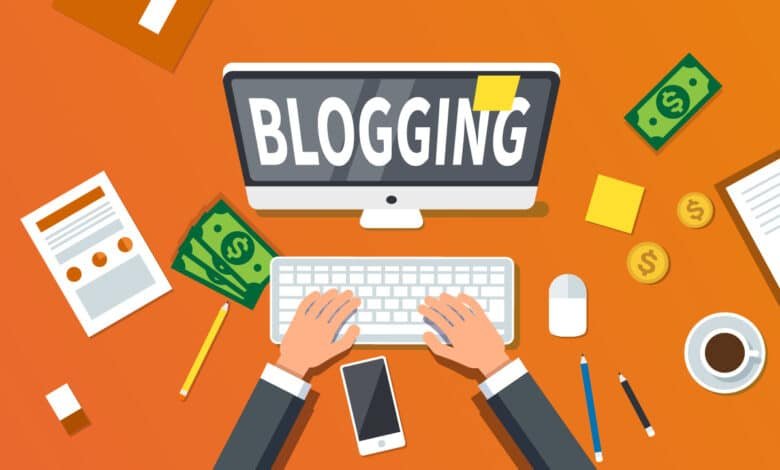 Are you looking for an excellent way to earn money online from your home without investing tons of cash? Then blogging would be an excellent option for you.
Wherever you search to earn money online, inevitably, there will be options for blogging. Due to the internet, various earning opportunities have been created. Lots of ways and methods are now available, which are being used by people to make a good income. Maybe you also have heard of blogging while searching for money-making legitimate ways online, and if you are not aware of blogging entirely and do not have a clear vision in blogging, you are in the right place. Here will be discussing what is blogging and how you can make money online by blogging. We will also cover who can earn money from blogging.
So, let's explore this money-making method.
What is blogging?
Blogging is sharing your thoughts or experience, or knowledge about anything through helpful writing. People who do blogging are called bloggers. There are many platforms where people do blogging, but it is referred to write content on websites in most cases. Previously when the internet was less congested, and fewer websites were running, people would do blogging for passion. Then, most bloggers used one specific platform called "Blogger" or "Blogspot."Their people would share their thoughts, without any money-making intention but to help people. But now, blogging has changed dramatically. The number of blogs is growing in number day by day because blogs have a huge earning opportunity. If one can perfectly do all the things, there is a huge possibility.
Why blogging important for internet people?
On the internet, not all people come to interact with people or listing to songs, watching movies, or videos. The internet is an ocean of knowledge, and people often try to find a solution to their problems. The problem would be in any field. There are millions, or even more, bloggers write the solution for their problem. For a better example, suppose you need a new AC, and you want to buy an AC, but you do not know very much about it. Before buying, you need to know about which brand of SCs are good, what you should look for before purchasing an AC, their pricing, and lots of others. In this situation, most people search on the internet about the best ACs and get so many blogs or websites that have written content on AC. There they mention all the necessary things you are required to know about that.
Similarly, on the internet, you can find blogs in every category, with little exaggeration. From products to services, from sports to entertainment, from health to science, in every category, some excellent blogs are online. Although there are millions, maybe billions of blogs are on the internet, but very few get succeed and reach a high-level income.
According to Forbes world's top blogs as per the earnings, are as follows.
Huffington Post.
Engadget.
Moz.
Mashable,
And so on.
These are the big players in blogging, and their earnings are huge.
There are many categories of blogs that are running. Some blogs are personal, and some of them are run by a group of bloggers, contributors.
What are the primary things you are going to need to start a blog?
To start blogging you will need lots of online tools, knowledge, and in some cases, you have to invest money. But below we are mentioning some important points which are related to your wisdom and expertise.
Writing expertise:
In blogging, the main thing is writing. People come to read your blog. If you can write a problem solving interesting content, then you can succeed in blogging. That's why the foremost important thing in blogging is writing. As per your writing expertise, you will receive feedback from visitors, and that will decide your blogging success.
Interest in blogging:
The second thing is interest. Many people dive into blogging, just hearing the high income. They don't even think that they can perform the job or not. Lots of people come into this field, and as they do not have an interest in writing or this type of stuff soon, they get inactive. Some people cannot go through these writing blogs.
The third thing is knowledge of the topic you are going to choose. You need to have a detailed and comprehensive understanding of your topic.
SEO knowledge:
Nowadays, keeping your blog on the top rank in search engines is a tough job because the competition is very high. To beat the cut-throat competition, basic SEO (search engine optimization) knowledge.
Patience on your job:
Blogging is not a get rich quick scheme that you will start making money overnight. For the early days of your blogging, you may not be able to get many visitors to your site nor making enough money. But, you need to keep the patient on your work. It's very difficult to get success with blogging in a short time.
Hard work:
Blogging is by no means a golden ticket to unlimited and effortless cash. To earn money from your blog, you have to put in your hard work. If you think that with minimal, you will be able to make money from your blog, you are wrong. You need to work hard for success in blogging.
Well, if you are okay with these things mentioned above, then you can take the next approach. While you have decided to become a blogger to earn money online, you are going to need some elements.
To establish a successful blog and make money online, you need to focus on these elements from the first of your blog.
Firstly you have to choose a blogging platform:
To make money with blogging, you need to create a blog. For making blogs, there are many blogging platforms. Some of them are paid, and some of them are free to use. Most of the famous bloggers prefer to use WordPress, and it is a widely used platform across the globe. It has both free and premium options. Another most popular blogging platform is BlogSpot. On the free blogging platforms, you get limited options, but premium packages offer more options, more functionality, and more features.
Social media presence:
In this internet era, social media is used for all sorts of activities, and one of the main usages of this is reaching a broad number audience. The success of your blog and your money-making afford is deeply linked to audiences. So, you have to reach the maximum number of audience. Social media plays a significant role in that. People now spend so much time on various social media platforms. That's why you should keep a strong social media presence. A page on Facebook, an account on Twitter, and Instagram, a channel on YouTube can boost your social presence and user engagements.
Email subscription:
On your blog, you need to implement the subscribing newsletter option. People who like your blog, and find useful information on your platform, will likely to subscribe to your blog. Every time you post a new blog, they will get notified about that through the mail. Also, you can share other useful information like exciting offers, discounts through that.
Keyword research tool:
As mentioned earlier, to become a successful blogger, you need to have basic SEO knowledge. In blogging or any written content written on the internet, targeting keywords is essential. To target keywords, you have to find which keywords would be relevant to your content and audience. To find those keywords, you need keyword research tools. On the internet, several keyword finding tools you will get. Some of them are free to use, and some are chargeable. At the starting of your blog, you can go with the free ones, and later you can go for the premium keyword finding tools. You can use the SEMScoop keyword finder tool, which is free to use and also have a premium option, which gives you more keyword suggestions. Also, you can use Google's keyword research tool that is entirely free to use.
For making a money earning blog, there are lots of things required, but for a beginner, these elements are enough to start their blogging journey.
Now let's come to the point of how you can earn money online from your blog.  There are plenty of ways you can make. The first one is
Affiliate marketing:
If you look at the top players in the blogging field mentioning their earnings, they will agree that the lion's share of their earnings comes from affiliate marketing. Affiliate marketing is an excellent marketing strategy that is widely used by bloggers to make their six-figure income. If you also make your blog, you can use this great money-making technique. Affiliate marketing or referral marketing is suggesting products of the third-party Company's to the people. Every time if anyone makes a purchase, you earn a commission for the sale.
If you want to earn money from affiliate marketing from your blog, you can contact the company for their affiliate link. In today's market, almost every company or business which is online has its affiliate program. You can contact them for that, and they will provide a unique affiliate link. You can paste the link on your blog.
For the bloggers generating affiliate sales is easy. Let's understand this with an instance.
Suppose you are writing a blog on smartphones. Recently a new phone comes in the market, and you made a blog in that so people who are intended to buy that phone will search for that. If they come and read your blog about that, they can make a purchase. If you place the affiliate link of the phone, there is a big chance they might buy it from your link. That's how most of the bloggers make money. According to various products, the affiliate commission relies on.
The second option you have is joining PPC and CPM based ad serving networks.
Monetize your blog to earn money:
It is the most popular and most comfortable money making method from your blog. Here you partner with the advertising networks, for which they show ads on your site. As you are showing their advertisement on your website, advertisers pay you for that. Almost every blogger started their blog earnings by monetizing their blog, and when it comes to ad serving networks, then no one better than Google AdSense. Currently, it is the most popular ad network in the world.
Millions of blogs and websites are partnered with Google AdSense. The earning from AdSense happens in two methods. Firstly the CPC(cost per click), CPM(earnings per thousand impressions). When ads come on your site, visitors to your website click on those ads. For every click, Google gives you money. That is called the CPC. As per the type of advertisement, Google offers the CPC rate. So as many clicks you get on ads, as much you earn money from your blog. A different kind of earning, AdSense offers to their publishers is for viewing ads. Google calculates these earnings on 1000 ad views. You get a fixed price for 1000 ad impressions. Although Google AdSense is the most popular and widely used ad publishing network, its terms and condition are getting strict day by day. That's why new bloggers face lots of problems to join the publisher program. Also, for many reasons, they get their AdSense account disabled.
But, there are lots of other ad publishing networks available on the internet, which are also can be used to monetize your blog and earn money online. Their functionality is almost similar.
Sell your blog ad space to earn money online:
Another option to make money online from your blog is to sell your bog's ad space. This is also an ideal approach you can take. Now you might think of selling my ad space to whom? Suppose your blog is about job and education-related. You write blogs on education, how you should prepare for careers, and lots of similar things.

Now, what is related to your niche? The book publishing companies. Most of the visitors who will come to your blog are students, and they often purchase books. So, book companies will contact you that they want to show advertisements to your blog. For them, it is a great option to promote their business because you already have so many potential customers for them. You can make a deal with them about how long you will keep the ads on your blog. You can contract with them that for one month you will charge a fixed amount. Besides that, you can also charge money as per views. You can charge them as per persons who view their ads. Typically if you have a popular blog and a considerable amount of traffic, companies may take the first approach to contact you in this regard. As many advertisements you get, your earnings get higher. This is how you can earn money online through your blog easily.
Promote products or services to earn money:
Most of the online blogs, directly or indirectly have a connection with any product or service. Suppose you are writing about health and fitness. You have lots of experience on that topic. So, generally, you share tips or your real-life experience of how you stay healthy, how about your diet, what workouts you do, and lots of these types of things. Now, health-related countless companies are available who are looking to sell out their products. They have many products like protein powders, vitamins, food supplements, nutritional products, and other health products. You can write blogs and articles on behalf of those products in exchange for money from those companies. You can contact the companies that you want to write something for them with a charge, of course. Similarly, you can promote service-related companies too. The earnings would be so high you cannot imagine. As your popularity grows, you will be able to gain more opportunities to earn money online with this method from your blog.
Promote yourself through blogging to earn money:
Nowadays everyone is writing blogs. It is an excellent way to reach potential customers without spending money on advertising. If you look at the big product and service providers, everyone has a blog section on their website. There they cleverly promote themselves. If you have any talent, you can promote yourself through your blogging. You can share your expertise there, you can put your working experience, and other things to attract your potential customers. People who are coming to read your blog might impress with your work and you can get contracts for works, which will lead you to earn money.
Read more related articles below,